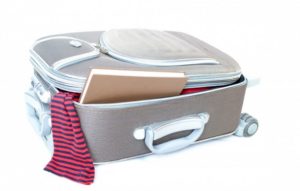 Packing a carry-on bag sounds pretty easy, right? Well, we are sorry to break it down to you like this, but packing a carry-on bag is not as easy as it may sound. In order to do it properly, you need to have the right packing skills. You see, packing a carry-on bag is not just something that you do before hitting the road – it's an art. A wise traveler will know how to balance the requirements of airlines and airport security, as well as how to keep all the important items easily accessible. And now, here are some of the most common mistakes that travelers from all over the world make when packing a carry-on bag!
Bringing Liquids Larger Than 3.4 Ounces
Don't bring any liquids or gels that are larger than 3.4 ounces. For example, if you are traveling with a full-size bottle of shampoo, make sure to put it in your checked bag – never put it in your carry-on bag. What this means is that if you are going to pick up a bottle of water for the plane, make sure to do it after you have passed the security check, not before. Keep in mind that there are a few exceptions to this rule, including food for infants, as well as essential medications.
Packing Too Much Stuff
You already know that checked bags are subject to additional fees if they are oversized or overweight, right? But did you know that carry-on bags are not always safe from this either? Well, now you do! Because of that, your best solution is to buy a small luggage scale if you don't already have one. You can use this scale to weigh your carry-on bag before leaving the home. It is much much easier to discard unnecessary items at your home than at the airport counter, isn't it?
Bringing a Gun Or Any Other Weapon
Don't put any prohibited items in your carry-on bag. This includes things such as guns and explosives, as well as any other item that could be used as a weapon. Scissors should be okay as long as the blades are not longer than 4 inches.