Sitting on California's central coastline is the city of Monterey. It is an easy 2-hour drive from San Francisco and a scenic 5-hour drive north from Los Angeles. Perched on the edge of the marine sanctuary, twice the depth of the Grand Canyon and larger than Yellowstone, for a long time the wild majesty of Monterey has humbled those who have walked her shores. This is a place where the upwelling of Pacific currents lifts plenty of mystery and sea life onto the shore. It is also a place where the breath of the sea shapes both wood and stone and has stirred the imaginations of writers and artists like John Steinbeck and Salvador Dali.
In 1846, the flag of the US was raised over the Custom House, marking the end of California's Mexican and Spanish chapters. Delegates from different parts of California gathered at Colton Hall three years later to draft the first constitution of the state.
Visit the Monterey State Historic Park to continue your journey through the early days of the city. You can also go on a self-guided tour to see how it breathes life into the adobe and brick buildings where the port's whales once relaxed and lived.
While whale oil fueled the Monterey's early prosperity, the greatest riches of the city was brought by a smaller sea creature. Wander down Cannery Row to the processing plants that once tinned and steamed billions of sardines every year, earning Monterey the title of the world capital of sardine.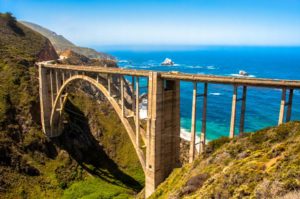 But a new wave of prosperity – hospitality soon replaced this. Today restaurants and gift shops fill the former canneries with the largest of them now home to the Monterey Bay Aquarium. Head down to Old Fisherman's Wharf when you are ready for your own seafood dinner. You can sign up for a fishing charter and you will soon start filleting your own catch.
This city has a knack for making old things useful again. Walk the Peninsula Recreational Trail from Fisherman's Wharf. This follows the former tracks of the Southern Pacific Railway. Or head east to the Del Monte Beach graceful arc. Then continue a little further into the floral displays and the ever-shifting sands of the Fort Ord Dunes State Park. The trail also heads north to Pacific Grove from Fisherman's Wharf.
Enjoy the sheltered and warm sands of Lovers Point Beach or visit the Point Pinos Light, where in 1878 Robert Louis Stevenson was entertained by a lighthouse keeper. There is no doubt that a visit to Monterey and the shores nearby is a lesson in the futility of searching for the perfect adjective – the ideal hashtag.